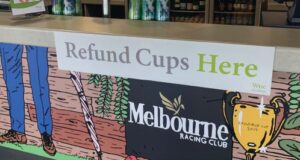 As nations and businesses roll relentlessly towards the removal of plastics from the environment as part of the global war on waste, internationally decorated venue industry leaders Craig Lovett and Stuart Kull have commenced the elimination of PET (polyethylene terephthalate) disposable single-use beverage cups from all Australian stadia, festivals, and concerts.
Lovett and Kull founded WISE – It's In Your Hands to supply reusable beverage cups to major Australian venues, and the reaction from the venue industry and consumers has been overwhelmingly positive.
Kull had seen the change from single-use plastic cups to reusable cups in Europe and partnered with Lovett to create WISE in Australia.
Prior to publicly launching the company, Lovett and Kull painstakingly analysed the Australian market, conducted consumer research and trialled the product and its operational mechanics at a series of public test events in Melbourne and Sydney.
The result was a gold-star pass at every level.
"After trialling WISE and others, our clients have found that the WISE reusable cup solution was clearly more advanced than any other competitor and it was a product that consumers were happy to use. As a result, we had no hesitation in accelerating our plans," Kull said.
WISE reusable cups are now being used 12 months of the year at the Sydney Showground, located within Sydney Olympic Park – site of the highly successful Sydney 2000 Olympic Games. The Showground is now home to the GWS Giants Australian Football League team, the Sydney Thunder cricket team, the international Sydney 7's rugby union tournament, and several of Australia's biggest events including the annual Sydney Royal
Easter Show which attracts more than 900,000 visitors. Successful product trials have also been conducted at Melbourne's Caulfield Racecourse – home to several of Australia's biggest horse racing events.
Further trials are underway at the 48,000 capacity Sydney Cricket Ground and are planned for the 53,000 capacity Marvel Stadium in Melbourne. Strong interest has also been received from every major venue across Australia and in New Zealand.
"In just a few months, we have witnessed a change of mindset from venue operators as they come to the realisation that there is no future in toxic single-use disposable plastic cups, and that reusable cups are the smart way forward," Kull said.
"Australia had been relying on exporting huge volumes of recyclables to southeast Asian countries such as Malaysia, China, and India, but these countries are now closing the door on ex- ports which has forced Australians to re-evaluate how they man- age waste.
"The Asian market had provided a cheap and lazy solution to plastic waste. But now plastic waste is stockpiling in our cities and local Australian recycling centres have been swamped and are now overloaded with recyclables.
"In Australia, over 60 million single-use cups are used each year and the majority either end up as landfill in waste dumps, or pollute rivers, harbours, and oceans. This has proven to be asignificant environmental hazard.
"This is why we believe all single-use disposable plastic cups should be removed from all major sports and events and replaced with reusable cups."
At WISE venues fans purchase their first drink in a reusable cup and pay an additional one-off $2 fee for use of the cup. When they purchase a second or more drinks, the beverage is poured into a fresh, new cup at no further charge and there are unlimited free exchanges.
At the end of the event, fans can either return their last cup   for a $1 refund or place the used cup in a container where the re- funded monies are donated to the venue's nominated charity. The used cups are then taken off site post event, thoroughly washed at WISE's unique and IP protected washing plant before being hygienically sealed into transport crates and returned to the venue for the next event.
According to Lovett, with no cost to venues, there is no barrier to the transformation to WISE reusable cups. "We actually pay a percentage revenue share to the venue, turning a cost center into  a profit center," he said. "People throughout the world have loudly and forcefully voiced their opinion that all single-use plastics in any form must be removed because of the escalating environmental damage.
"We have seen several major international companies such as McDonald's eliminate the use of plastics in packaging and consumer goods, yet many sports teams and venue operators still provide beverages at major sports events in disposable single-use plastic cups.
"That is why we say, by supplying WISE reusable cups, that the environmental solution is 'In Your Hands.' This catch-cry is resonating with the hundreds of thousands of fans who have used our cups over the past five months."
Lovett said WISE's business foundations were built on the extensive market research conducted late last year.
"We conducted quantitative and qualitative consumer research in Sydney and Melbourne and the respondents were overwhelmingly in favour of replacing disposable single-use cups with reusable cups," he said.
"We found that 95 percent of respondents said a cup that can be washed up to 500 times is far better than drinking from a single-use plastic cup. They also said they were in favour of paying a one-off fee for the reusable cup and also said that they would prefer donating the $1 refund to charity.
"Some venues expressed concern about the cup rental fee, but the research and the live event testing has overcome those fears. The uptake from fans for WISE cups demonstrates that Australians are concerned about the environmental impact of single-use disposable plastic cups."
Apart from the environmental benefits of using reusable cups, Lovett explained there are significant venue cleaning cost benefits. Lovett, a member of the IAVM Board of Regents, has first- hand knowledge about the costs of venue cleaning as he founded
Cleanevent in 1987 before selling to Spotless in 2010. Additionally, among many other international achievements and accolades, he has consulted on cleaning and waste strategies to the International Olympic Committee for seven Summer and Winter Olympic Games, plus the 2018 Gold Coast Common- wealth Games.
"With no plastic cups to be collected from the seating bowl, a major venue can save between 25 to 45 percent of their post-event cleaning costs and eliminate the expense of sending thousands of cubic meters of industrial waste to landfill each year. Since the WISE reusable cups are washed and cleaned offsite, there is also a reduction in energy and water costs for the venue," Lovett said.
Kull said the long-term recycling of plastic cups is an unsustainable, labour-intensive process.
"In Australia, most single-use cups go to landfill despite their recyclable composition," he said. "To recycle plastic PET cups, they must be collected and sorted at the venue, transported offsite to a recycling plant where they are shredded, washed, laminated, and then thermoformed into the same PET cups before being trans- ported back to the venue.
"This involves countless hours of labour, chemical baths, and energy costs, and this entire process is repeated week-in and week- out throughout the year. In the end, the recycled product only uses between 25 to 50 percent of the recycled material whilst the re- mainder is new virgin plastic."
With waste management now a major community concern, Lovett said there is increased pressure on venues, sports, and commercial partners to publicly demonstrate their CSR credentials.
"It's time for all parties to get wise about the environmental damage single-use disposable plastic cups are causing. Therefore, we believe that the reusable cup solution is in their hands," Lovett said. FM
Greg Campbell is one of the most highly regarded media and public relations strategy directors in Australia, having spent over 35 years in the media and communications sectors. Greg was an award- winning sports journalist with The Australian newspaper before embarking on a distinguished career with media and public relations.