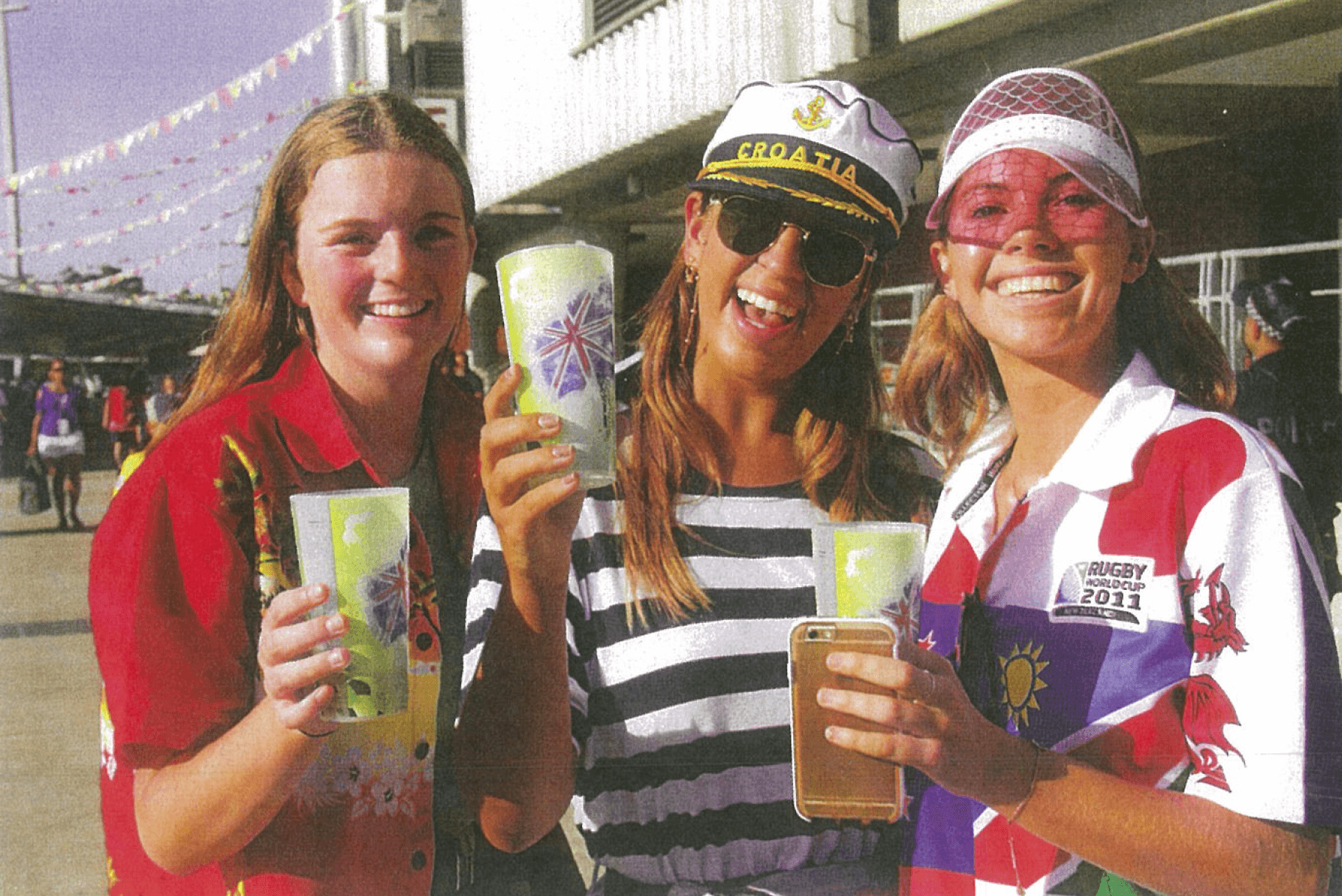 Each year enough single-use, disposable PET (polyethylene terephthalate) plastics cups sold at Australian stadiums could fill the MCG to its brim. That's over 60 million single ­use cups annually, and most of these end up in landfill or are littered in our harbours, creeks, rivers and other waterways.
Given the global war on waste and society's relentless journey towards eliminating the use of plastics in packaging and consumer goods, it is incongruous that beer, wine and soft drinks continue to be sold in single-use disposable plastic cups at nearly all Australian stadia, festivals and concerts.
According to internationally awarded venue industry leaders, Craig Lovett and Stuart Kull, all single-use disposable beverage cups should be removed from all major sports and outdoor events in Australia and replaced with re-usable cups.
Lovett and Kull have founded WISE – It's In Your Hands, which supplies re-usable cups to stadia, events and festivals, and has entered into a multi-year, ground-breaking agreement Wirth Sydney Showground.
Under the agreement, WISE will supply re-usable cups at all Sydney Showground events including GWS Giants AFL fixtures, Sydney Thunder Big Bash League cricket games and the HSBC Sydney l's Rugby Union tournament.
It's a cutting-edge agreement with a major Australian venue and is set to transform how beverages are consumed.
Lovett says the agreement is another important step in the war on waste and a leap forward in the removal of plastics from the environment, advising "the reliance on single-use cups must stop. Society is demanding change from the supply of single-use plastics, and Sydney Showground is demonstrating venue and event industry leadership by introducing re-usable WISE cups.
"Elsewhere, we have seen McDonald's ban plastic straws, and the City of Hobart voted in March to ban single-use plastics by 2020. Carlton & United Breweries also announced in March it is replacing plastic six-pack rings on cans with cardboard packaging across Australia.
"AFL venues across Australia conservatively use over 12 million disposable cups per year and the MCG sells around 500,000 beers over a five-day Boxing Day Test. Throw in concerts such as Ed Sheeran, NRL fixtures, Formula One, Australian Open Tennis and the Spring Racing Carnival and you get an idea of the vast quantity of disposable single-use cups being used every year.
"That's why we say, by supplying WISE re-usable cups, that the solution is 'In Your Hands'.
"Apart from being a practical and sensible answer to a growing environmental issue, our WISE re-usable cups will significantly reduce daily post-event cleaning costs and assist with improved waste management."
Lovett, who founded Cleanevent in 1987 before selling to Spotless in 2010, is a world leader in cleaning and waste strategies for venues and events around the world. These events include seven Summer and Winter Olympic Games and the 2006 Melbourne and 2018 Gold Coast Commonwealth Games.
He estimates WISE re-usable cups can save a major venue 25% in yearly seating bowl cleaning costs. This can represent savings between $200,000 and $250,00 for large stadia.
Single-use plastic cups were introduced to stadia events, festivals and concerts in Australia in the mid 1970's after metal beer and soft drink cans were banned following incidents of violent, can-throwing crowd behaviour.
The introduction of single-use plastic cups eventually led to the creation of beer snakes where patrons stacked discarded plastic cups to form a long, winding line.
Although this practice was outlawed by venue operators, SCG staff saw the lighter side during a rain delay at the One Day International cricket match between Australia and Sri Lanka in 2013 when the scoreboard operators claimed a 175-metre long beer snake world record. It was estimated it took 20,000 plastic cups to construct the snake.
While the plastic cup beer snake was viewed as harmless fun, it highlighted just how many disposable plastic cups are used at a single match at major sports venues – and this beer snake was constructed only by a section of fans seated in the bays in front of the Victor Trumper Stand.
Fast forward to the Eminem concert at Westpac Stadium in Wellington in March, where the stadium playing surface was a sea of plastic cups, many of which had been splintered underfoot by dancing concert patrons.
While stadium operators have introduced environmental initiatives such as giant water tanks to harvest rainwater to flush toilets, installing energy-saving LED lighting and separating waste to drive up recycling rates, an alarming contradiction remains by the continued use of environmentally damaging single-use plastic cups. This comes at a time where China is now restricting exports of recyclables.
The creation of WISE- It's In Your Hands followed a luncheon in the Swiss city of Lausanne three years ago. At the time, Kull was working in Europe while Lovett was visiting the continent for business conferences and consultancy meetings.
Kull had witnessed the evolution of re-usable cups and the removal of single-used plastic cups from all major stadia across Europe. He sensed an opportunity and initially sought Lovett's consulting advice about introducing re-usable cups to Australia. Lovett liked the concept so much they agreed to enter into a partnership.
Since the formation of WISE, Lovett and Kull went to great lengths analysing the Australian market, conducting consumer research, speaking with stadia operators, testing the product and the operational mechanics at major stadia, and completed soft launches.
Kull said the long-term recycling of plastic cups is an unsustainable, labour-intensive process, commenting "the majority of disposable cups in Australia goes to landfill despite their recyclable composition. Think about what's involved in the recycling process. Thousands of disposable cups have to be collected at each venue, then they are sorted,  placed  in a recycle bin and transported to a recycling plant where they are melted and moulded into new cups before being packaged, sold and transported back to venues. And this process is repeated week in, week out.
"These cups become RPET cups – recycled PET cups – and only 25%-50% of recycled plastic is used. The remainder is virgin plastic. The cost of each plastic cup is around 7-10 cents and is added onto the cost of beverages which is ultimately paid by patrons."
WISE cups were trialled by Sydney Showground at the Sydney Irish Festival, attended by 20,000 people, last November and received a glowing endorsement. Rugby fans warmly welcomed WISE cups at the Sydney Sevens Rugby Championship in February.
This onsite usage followed quantitative consumer research conducted in Sydney and Melbourne last year where respondents were overwhelmingly supportive of replacing single-use plastic cups with re-usable cups at stadiums and events.
Kull explains "the research evidence was clear cut. 95% of respondents said using a cup that can be washed up to 500 times is a better idea than drinking from a single-use cup.
"Some stadium operators had expressed concerns patrons may reject paying a one-off gold coin rental fee for a re-usable cup, but the research surveys revealed respondents were strongly in favour of paying a small fee."
Kull said one of the keys to  the WISE cups solution  was  its industry-leading closed loop wash, dry and cool process, explaining "the biggest problem with washing plastics is that it doesn't dry – just look at regular household dishwashers when they clean plastic dishes and containers. They remain wet.
"But our custom-built wash plant dries the cups which no other re-usable cup service provider can supply. It is completely unique, and we own the IP to the machines. It's our 'secret sauce' and provides a cradle-to-grave solution.
"Each WISE washing plant can wash over 8,000 cups per hour while using less than 90 litres of water and 51Kw of electricity per hour. This is unprecedented anywhere in the world."
Kull said the re-usable cup process was straight forward for event operators and patrons.
"For venues, it's like delivering kegs. We take away the used cups, wash and clean off-site, and provide the venue with fresh, new clean cups.
"They don't have to worry about washing and cleaning the cups on-site and providing labour to manage this process.
"For the event patron it's straight forward. When they take their used cup back to the beverage outlet for a new drink, they receive a fresh clean cup."
Lovett believes the Sydney Showground-WISE agreement will spark wider discussion among sports organisations, sports venue sponsors and sports team sponsors, concluding "it's a great opportunity for stadia naming rights sponsors and for the sports themselves to demonstrate their CSR credentials and their sustainability practices by partnering with venues and events which offer a re-usable cup environmental solution.
"It's time for all parties involved to get wise about this environmental issue, and their response and their actions are in their hands."
Greg Campbell is Managing Director of PRISM Strategic Communications.
Australasian Leisure Management Issue 133 2019 39